Emsella Chair VIMYAGE for sale
Emsella chair is the new technology from BTL company. Emchair uses high-intensity focused electromagnetic (HIFEM) technology for the SUI (Stress Urinary Incontinence) treatment. We VIVALaser offer a similar technology for a buttock lift and pelvic treatment.
The whole treatment cost around 28 to 30 minutes which could receive a perfect result for buttock lift and Pelvic Floor Muscle Training. The Emchair is developed for those who is suffering from incontinence. The whole Pelvic Floor Muscle treatment is completely non-invasive and non-surgical.
In order to strengthen the muscles, Emsella chair(or similar technology) significantly reduces the symptoms related to incontinence. Moreover, a more powerful pelvic floor reduces nocturia (waking up in the night to void) . It can also improve sexual satisfaction.
Features
A new treatment for incontinence and confidence.

Non-invasive, safe and no downtime treatment

95% of treated patients reported significant improvement in their quality of life
Single session induces thousands of supramaximal pelvic floor muscle contractions

28 minutes treatment wquals 11,200 Kegel exercises

Fullly clothed treatment
Emsella Chair with lift function

2022 most advanced HIFEM technology for non-Invasive Pelvic Floor Muscle treatment

2 yearswarranty for the machine lifetime after-sales service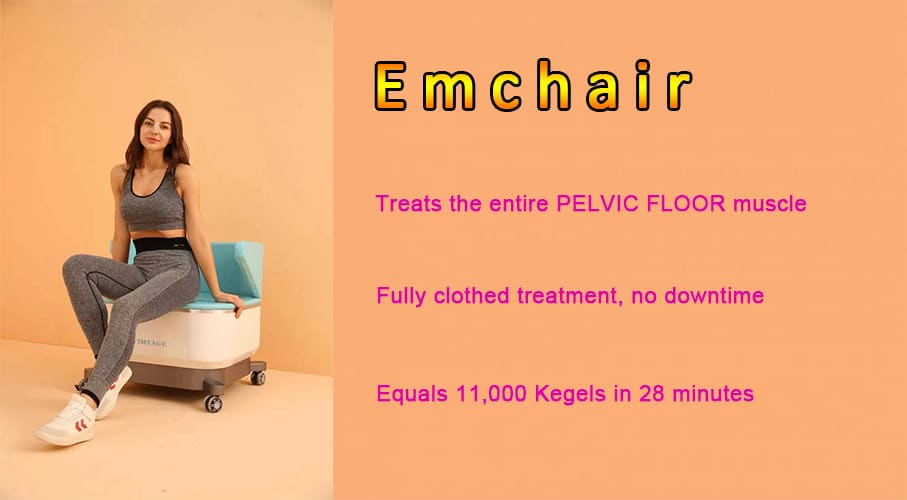 How much does an emsella chair cost?
USD 4,500 to USD $6,500
The cost for the EMchair depends on order quantity and if there is any additional design.
USD $ 5,500 if order quantity is 1 unit
USD $ 5,000 if order quantity is 3 to 5 units
USD $ 4,500 if order quantity is 10 units or more
Related products:
The ensculpt machines combined with the pelvic chair