Thermolift-new for anti-aging
Thermolift uses radiofrequency energy to tighten the collagen in the skin, thereby filling out wrinkles and fine lines. The system targets all three layers of facial skin with the goal of keeping the skin rejuvenated and strong for years. Patients generally feel no pain during the treatment.
As the collagen in the dermis and the subcutaneous layer begin to stretch and sag, the skin loses some of its firmness and naturally smooth texture. The Thermolift procedure targets these collagen-containing layers. The Thermolift system utilizes a specialized treatment tip called the ThermaTip, which delivers the CRF energy to the skin in controlled amounts. The ThermaTip uniformly heats the treatment area, stimulating collagen growth by essentially tricking the body into thinking it has suffered an injury and therefore needs to regrow collagen to restore the skin's structure.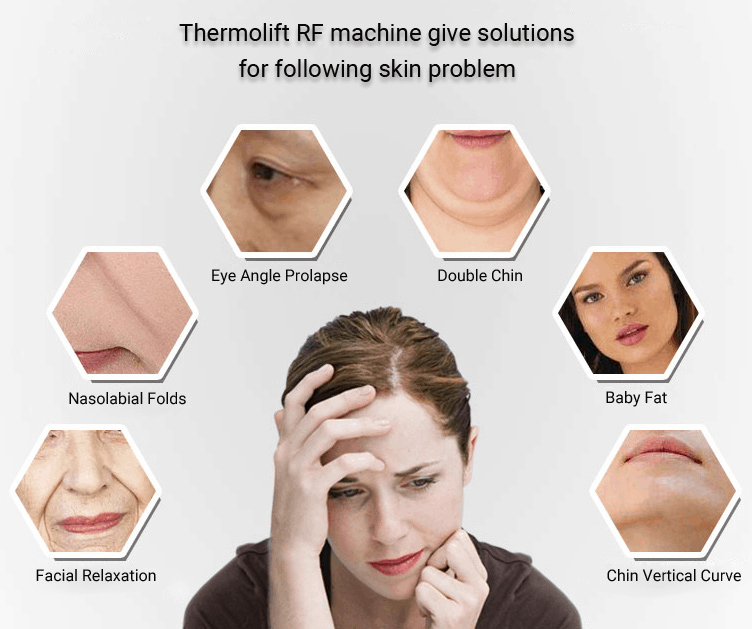 What Is Thermolift Treatment Like?
In general, the higher the setting used during the Thermolift procedure, the more impressive the final results; however, there will also be an increased risk of discomfort. If you are undergoing a more rigorous Thermage® treatment, your doctor may have you take pain medication before beginning. The preparation for each treatment will vary depending on the individual Thermage candidate.
Patients report a brief, deep heating sensation with every touch of the ThermaTip device. The outer layer of skin (the dermis) is cooled with a spray so that the visible layers of skin are not damaged. Each touch of the ThermaTip covers approximately one-half to three-quarters of a square inch, and each pulse lasts between two and seven seconds.
Are Thermolift results immediate?
The initial results of Thermolift are immediately apparent, but to see the full benefits of undergoing the procedure, a patient has to wait four to six months for tightening and collagen growth to be complete. At that point, the procedure will have run its course, and the results should be evident for the next few years.