7D HIFU Machine(MMFU) for sale
7D HIFU machine is the latest technology for face lifting, wrinkle removal, and body sculpting. The technology is first developed as a product named Ultraformer III. 7D HIFU, use MMFU(Macro & Micro focused ultrasound) technology, the transducer generates heat in the focus area.
7D HIFU machine focused on the depth of the skin 3mm (dermis layer) and 4.5mm (SMAS layer). It generates continuous micro-thermal coagulation and the coagulated tissue shrinks as the phenomenon Occurs. The reconstruction of collagen fibers will improve skin texture and lifting results.
The 7D HIFU machine has a special 2.0mm cartridge. The 2.0mm depth is specially applied to the eye surrounding treatments. (Eye bags, under-eye wrinkles, Nasal lines, mouth surroundings and lift the brow.)
The MMFU technology is non-invasive and non-surgical. It works effectively for the face, eyes, neck, and body. Compared to traditional HIFU machines, 7D HIFU is completely safe, pain-free, and comfortable.
Reviews
MMFU=Micro and Macro Focused Ultrasound, latest technology for face and body.

Dual handles and 7 cartridges(face + eye + body)

Tottally 7 cartridges, 20,000 shots for face cartridge and 30,000 shots for body cartridges
Special design 2.0mm cartridge for eye surrounding treatment

Non-surgical, non-invasive and no down time

Korea import brushless motor, quiet, safe, fast and pain-free.
Suitcase design packing box, easy transporting

CE + Medical CE+ America test report, OEM/ODM accepted.

2 years warranty for the machine and main spare parts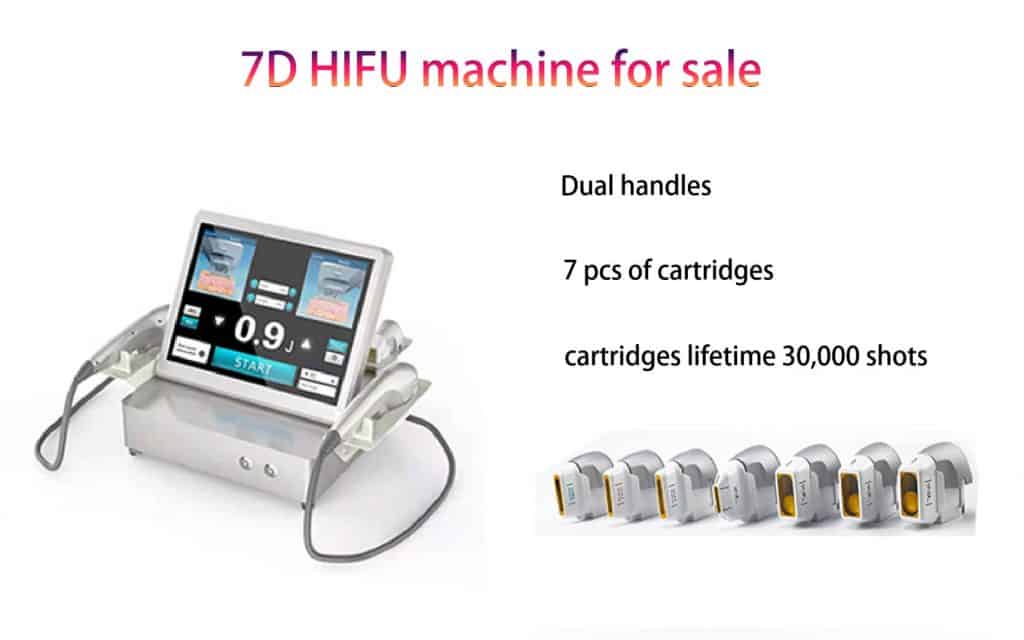 7D HIFU Factory
We are the best 7D HIFU machine factory in China. Our factory could produce 1,000 units of different kinds of HIFU machines per month.
We could offer OEM/ODM service for all kinds of HIFU machines. Our factory has worked with many foreign companies and designed the OEM project for them.
All our HIFU machines have passed CE and America test reports with strictly quality control. For distributors, we could offer the certifications of the quality. For end-users, we could provide a professional training books and training certifications.
How much does an Ultraformer III (7D HIFU machine) cost?
As the professional HIFU machine factory, we offer a list of combinations for 7D HIFU machines:
7D HIFU single handle
7D HIFU + 4D HIFU 2 in 1
7D HIFU + Ultera HIFU 2 in 1
7D HIFU + Vmax HIFU 2 in 1
7D HIFU + Vmax + Liposonix 3 in 1
7D HIFU + Vmax + Liposonix + 4D HIFU + Ultera HIFU 5 in 1
Model
Handpiece
Price(USD)
Single handle 7D HIFU
1 pcs 7D handle
$500 – $950
Dual Handles 7D HIFU
2 pcs 7D handle
$850 – $1,350
7D + 4D
1,000-$1,700
7D + Ulterapy
$950-$1,650
7D + Vmax
$950-$1,650
7D + Liposonix
$1,000-$1,800
7D + Vaginal
$1,000-$1,800
Triple Handles 7D HIFU
7D + lIposonix + Vmax
$1,950-$2,250
Four handles 7D HIFU
7D+Lipo+Vmax+vaginal
$2,250-$2,950
Please contact us for more details to buy the machine.