Fractional CO2 laser machine for sale
Fractional CO2 laser machine is used for skin resurfacing, wrinkle removal, acne removal, scar removal, vulva treatment, and vaginal tightening. The RF tube CO2 laser is the most powerful in aesthetic machines.
The laser used a 10600nm wavelength which works on the water in the target tissue. It is a non-invasive procedure that uses a laser, specially made of carbon dioxide, to remove the outer layers of damaged skin.
The high-quality Coherent RF Metal tube as the laser generator efficiently outputs a 10600nm laser and focuses on renewing the skin and regrowing collagen. Finally permanently remove surgery scars, wrinkles, stretch marks, skin diseases, etc.
Reviews
Coherent RF Metal tube, 50,000 working hours, keep strong energy, always get obvious results

Non-surgical and Non-invasive anti-aging treatment

For wrinkle/ surgical scar/ stretch mark removal, wart cutting, and vaginal tightening treatment.
Highly Advanced Scanners For Maximum Versatility, Speed and Efficacy

Laser shape can be square, rectangle, triangle, circle, oval, hexagon, laser size is also adjustable.

Best cooling, no need cooling water, easier use.
Korea import 7-joint laser arm

Fractional, cutting and vaginal tightening 3 working modes

RF tube and glass tube 2 laser tubes optional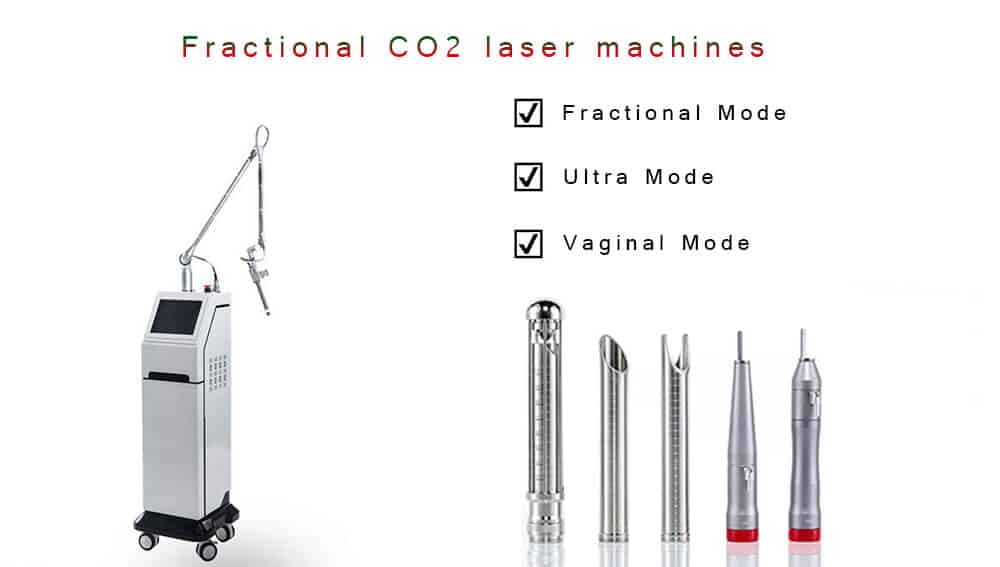 What is the price for a fractional CO2 laser machine?
The pace ranges according to the design and Tube type of the laser machines. We offer 5 types of CO2 laser for your option.
Design
Tube options
Price(USD)
Vertical CO2 laser
RF tube
$4,500-$6,500
Glass tube
$3,000-$5000
Portable CO2 laser
RF tube
$3,500-$5,500
Glass tube
$2,500-$4,500
Promotion CO2 laser
Glass tube
$1,988