SHR hair removal principle
SHR hair removal is effective and safe, which is popular in the market such as Singapore. The SHR is based on the IPL (Intense pulsed light) technology. And has made improvement on the working principle.
SHR is a sweeping hair removal procedure. The SHR machine could slide on the treatment area smoothly and quickly. You will find the obvious hair removal results before and after.
SHR hair removal has been proven faster, painless and more effective than IPL.
Speedy hair removal, frequency up to 10Hz
UK Xenon lamp, lifespan over 1,000,000 shots.
Filter design to purify the water
Japanese imported 15,000uF capacitor

So what is SHR hair removal technology?
The SHR is also called Super Hair Removal. The system combines laser technology and the benefits of pulsed light for painless results. It is a sweeping process and non-laser technology for permanent hair removal.
Super hair removal is the most advanced epilation technology. The hair reduction results are obvious and painless. Even the fine and tiny hairs could be removed by SHR.
The Sweeping SHR is an "In Motion" process. Sliding "In Motion" is a breakthrough in permanent hair removal method. With this technology, hair reduction treatment is no longer painful and uncomfortable.
SHR provides faster, safer and pain-free hair reduction treatments for clients.
Does SHR hair removal treatment Safe?
SHR IPL hair removal is a new technology for pain-free treatment. Millions of cases have shown that SHR OPT hair removal is safe, effective and comfortable. OPT SHR applies sweeping IN-MOTION and gradual heating method.
The energy is 50% cut but the repetition rate could rise to 10Hz. Low energy and speedy frequency make sure safety and efficiency.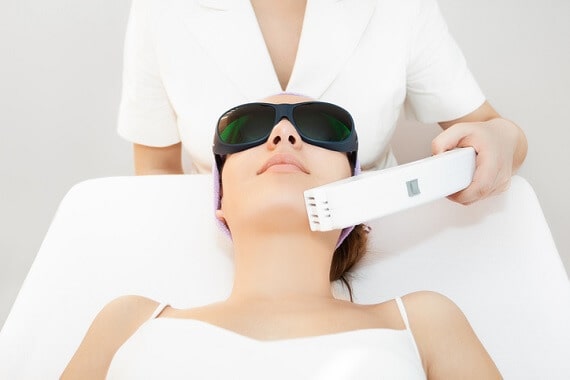 What is the difference between IPL and SHR
The SHR system could be a revolutionary focus based on IPL technology. The system shoots multiple pulses at low levels of energy, the follicle heats up gently. The patients will experience a warm feeling and a slight tinger. We also describe it as a warm massage. During the SHR treatment, the handpiece should always be moving. Don't shoot at a single fixed point.
How does SHR work?
AFT SHR technology hair removal method only uses 50% energy for permanent hair removal. The remaining 50% of energy is absorbed into the stem cells for hair production. This is why SHR hair reduction result is painless and safer. By SHR technology you don't need to use high energy for a single pulse.
If the energy is lower, how could the treatment be effective?
The answer is the frequency. The skin is passed over the skin 6 to 10 times low energy but with high frequency. We call this procedure "in-Motion" method. The handpiece is sliding over the body area in slippy movements.
So, how does IPL work?
Unlike SHR, the IPL technology could not use In-motion method. IPL is a fixed method for hair removal.
The study has proven that a slower, but the longer heating process is more effective for permanent hair removal. The high energy but short levels IPL is not painless for dark skin.
With the SHR technology, the skin is gradually(90 seconds) heated. The light works on the target melanin is low energy(48 degrees) but high frequency. By this method, even lighter and finer hair will be treated and removed. While IPL technology the skin is heated to seventy degrees.
Inquiry Now
Advantages of SHR hair removal machine
OPT SHR hair removal is
virtually
PAIN-FREE
IPL laser hair removal uses massive amounts of heat to destroy hair follicles. While SHR Lasers fire
multiple
shots but at lower Joules. This new method
gradually
heats the hair follicles producing a warm tingling sensation. —some clients compare it to a warm massage.
In-Motion™ technology
is utilized by
moving the handpiece over the treated skin. It contributes to the comfort felt during their hair reduction treatments.
Effective for all hair types and skin types
The unique SHR IPL makes all hair and skin types suitable for this treatment. SHR IPL is also an attractive hair removal solution for those who don't want to hide away from the sun. It means hair reduction treatments can be done all year round.
By using low heat, SHR IPL decreases the amount of heat absorbed by the skin. so treatment can
be done
on tanned skin. SHR IPL Technology is ideal for lighter and thinner hair.
With the best hair removal results
Due to the area that requires SHR, we recommend 4-6 treatments at four-week intervals. The hair growth cycle is anagen, catagen, and telogen. This is why we set Hair reduction treatments at four-weekly intervals.
It will ensure that we are able to target the hair at the right time during the natural re-growth cycle.
Fast hair removal treatment
SHR in-motion hair removal has much improved the treatment speed.
Max 10Hz frequency
The SHR machine repetition rate is 1 to 10Hz. The handpiece could shoot 10 shots in 1 second. While IPL every shot interval is several seconds. SHR laser hair removal treatment is 3 to 5 times faster than IPL.
Super hair removal
Super hair removal (SHR) is sweeping in-motion process. The Super SHR handpiece could slide in the target area. The method has a name Shutter HR. IPL treatment could not move continuously on the skin, it is fixed.
SHR hair removal reviews
SHR hair removal machine with high reviews
Handpiece
SHR machine handpiece use sapphire contacting cooling system, the handpiece cooling temperature could be lower than -20℃. The low cooling temperature makes sure the hair removal treatment pain-free and comfortable. The SHR handpiece uses UK imported lamp, the lifetime is more than 1000,000 shots. There are 5 IPL filters for the handpiece. The 5 filters are for different treatment.
430nm: Acne treatment
480nm: Spider vein removal
560nm: Skin rejuvenation and pigmentation removal
590nm: Wrinkle Removal
640nm: Hair removal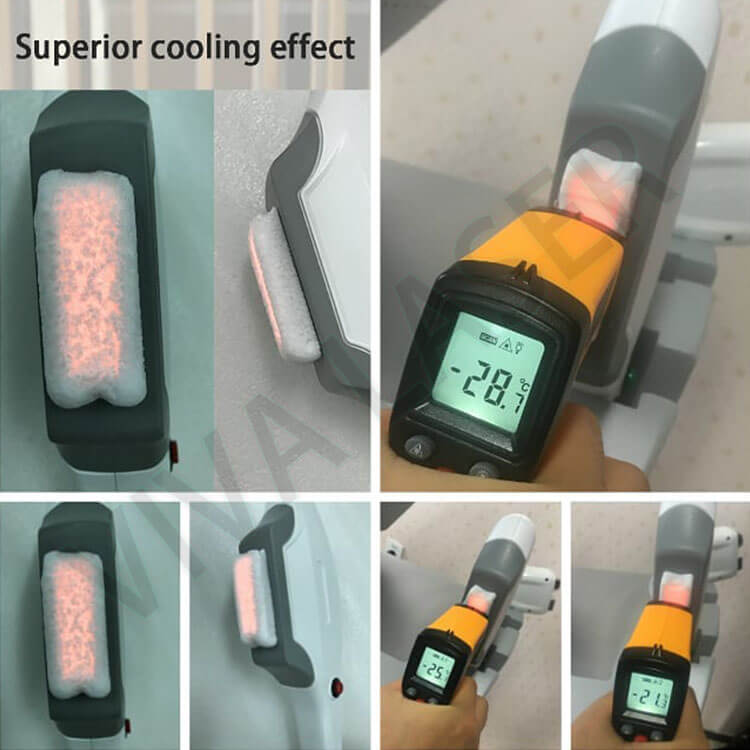 Specifications
| | |
| --- | --- |
| Wavelength | 650-950nm; |
| Energy Density | 1-26J/cm2 |
| Spot Size | 15x50mm² (Standard) |
| Pulse duration | 1-15ms |
| Pulse Repetition Rate | 1-10Hz |
| Timer | 1-30s |
| IPL Peak Power | 2400W |
| Cooling | Crystal contact cooling |
| Stand-by Working | Continuously for 12 hours |
| Electrical Requirements | 100-240VAC, 20A max., 50/60Hz |
| Net Weight | 36kgs |
| Dimensions (WxDxH) | 52*48*58cm |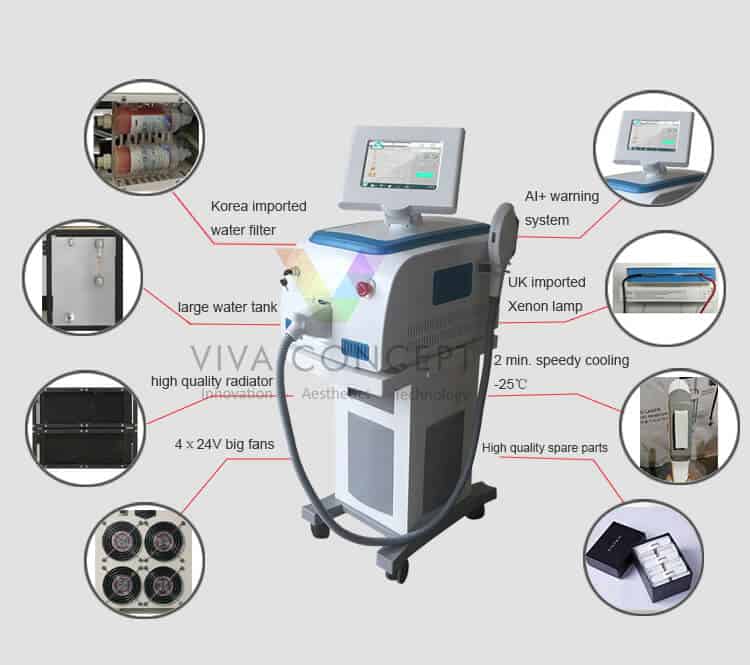 Does SHR effective and safe for all skin types?
The SHR system is safe for all skin types, even dark or black skins.
Different from traditional IPL, SHR can use all year around without hiding from sunlight
.
Could SHR remove blond or red hair?
The darker hairs with most melanin are better-absorbed light.
however
, red and blond hair is not easy to remove. IPL cannot remove but SHR works. As with all systems, results may vary from one patient to another.
How many sessions
are needed by
SHR treatment?
Usually, SHR needs 4 to 6 treatments in 4-week intervals. A 4-week regime is important as the SHR treatment will catch the hair on its fourth week of re-growth. Near the end of the treatments, 6 to 8-week intervals will
be needed
to finish the treatment.
If the hair is in the anagen phase of growth during treatment, that is to say in the active growth phase, it can merely be destroyed as is the case with IPL technology. However, one needs only about four to eight treatments in order to ensure permanent hair removal.
Is SHR permanent?
SHR laser hair removal is permanent dut to clinic definition. the body's hormones are always producing hair. What can be achieved with the treatment is a hair reduction of 95%. the initial results can be sustained.
Will my hair grow back?
Actively
growing hair that's
been treated
with SHR should not grow back. Once a hair follicle
is damaged
, it cannot grow hair.
However
, hair follicles that were not in the active growth phase, will need to
be treated
.
It's also not unusual for some patients to have a touch-up two years after initial treatment due to hormonal changes
.
Is there downtime for super hair removal?
SHR IPL Laser treatments have no "down time" and requires no recovery time. You can have the treatment and return to work and other normal activities immediately.
What does super hair removal feel like?
Treatment with SHR is painless as opposed to treatment with the conventional IPL devices
.
On areas with dense hair growth, warmth from the light impulses
is evoked
and the light impulses may
be felt
to a much lesser extent than with laser or IPL
.
How long does it take for a single treatment?
It depends on the size of the area to
be treated
, the time varies from 15 to 30 minutes for a facial treatment and about 2 hours for both legs
.
Are there any SHR hair removal side effects?
Skin is more sensitive in some areas of the body than in others and redness can occur as a side effect. It should disappear in a matter of hours but could
potentially
be as intense as a sunburn lasting a few days.
Contrary to conventional methods, a light crusting which will vanish after 2-3 weeks. or alteration of the skin's pigmentation which will disappear after 4-6 months, is very rare.
What is the other application for super hair removal
?
Skin rejuvenation, pigmentation removal, spider veins treatment, and acne treatment.