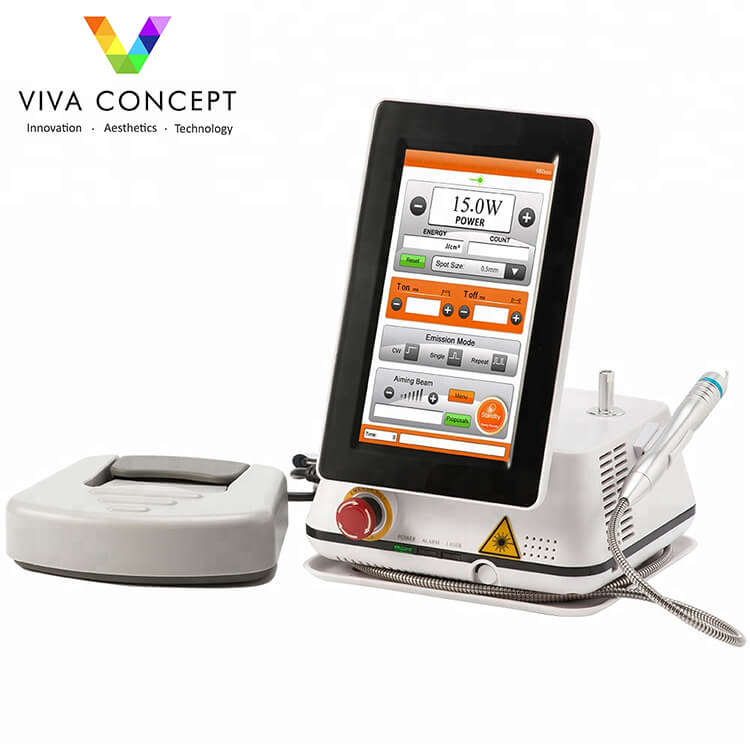 Laser Spider Vein Removal
Laser spider vein removal technology using 980nm wavelength diode laser. The 980nm diode laser was mostly absorbed by the vascular cells, while the water in the skin will less absorbed. 980nm diode laser beam is focused onto a 0.2-0.5mm diameter range, to make sure more focused energy to reach the target tissue, but will not burn surrounding tissue.
980nm wavelength is the best absorption spectrum of Porphyrin vascular cells.
15w, 20w, 25w, 30w output power optional
0.2mm,0.5mm,1mm,2mm,3mm 5 spot size optional
Vascular removal, Nails fungus removal, physiotherapy 3 functions in 1 machine
Treatments
The spider veins also can appear on the skin's surface. These may look like short, fine lines, "starburst" clusters, or a web-like maze. Spider veins are most common in the thighs, calves, ankles, and feet. They may also appear on the face. The laser spider vein removal is by using the 980nm diode laser. The treatment is fast and effective. The treatment is safe for all skin typle.
Spider vein(Varicose vein) Removal
Nails Fungus Removal
Pigmentation Removal
Physiotherapy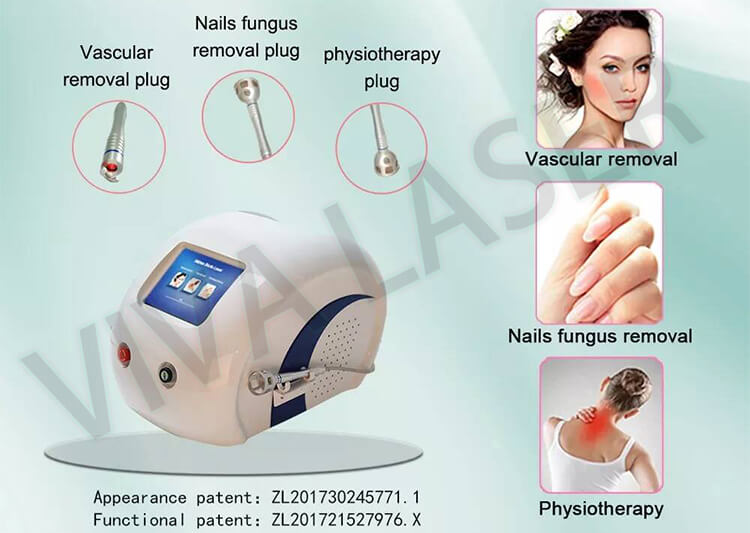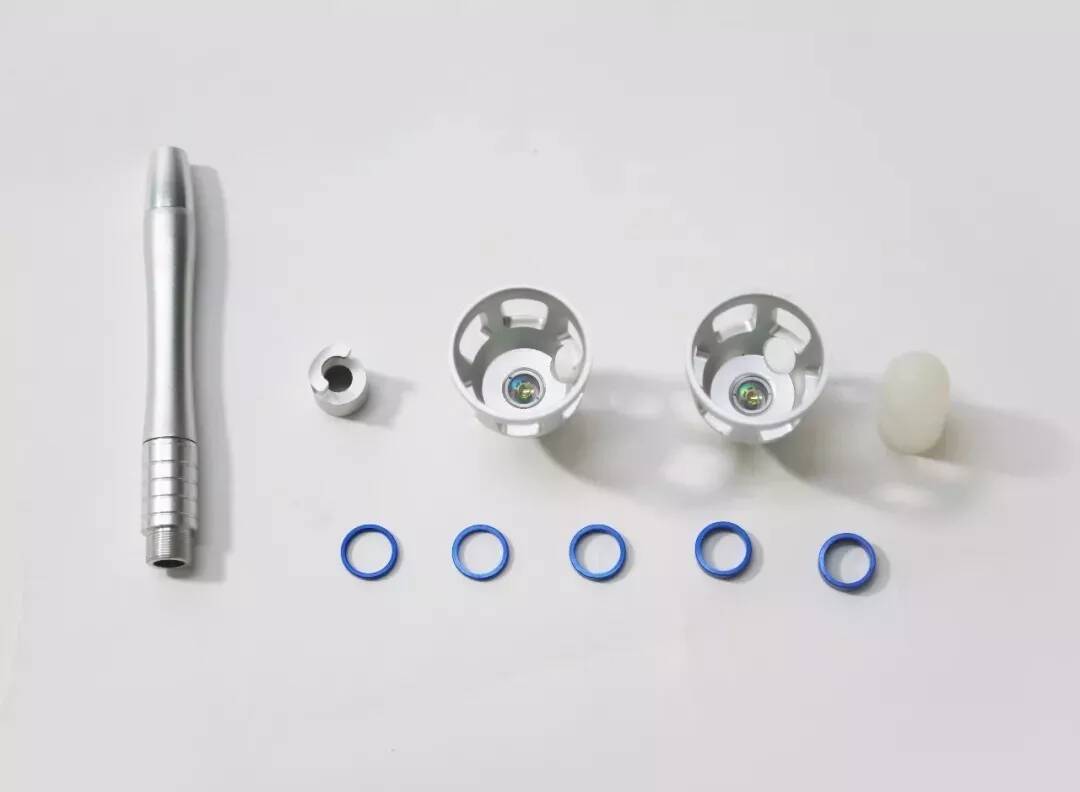 Handpiece (3 plugs optional)
980nm diode laser spider vein removal machine has 3 treatment plugs for optional, these plugs are using for different treatment. Vascular removal plug, Nails Fungus removal Plug and Physiotherapy plug.
Spot size (5 spot size adjustable)
For the vascular removal plug, there are 5 spot size optional for different size spider veins treatment: 0.2mm, 0.5mm, 1mm, 2mm, and 3 mm.The spot size was adjusted by 5 different rings.
Laser Power
The laser power are 15W,20W, 25W and 30W optional,the results will be better for the high power.
Specifications
| | |
| --- | --- |
| Laser type | 980nm Diode laser |
| Output power | 15W/20W/25W/30W |
| Work mode | CW/Pulse mode |
| Laser conduct | Fiber conduct |
| Indicator | Diode laser 5mW 650nm |
| Cooling system | Intense wind cooling |
| Body material | ABS injection plastic |
| Size | 34 x 50 x 30cm |
| Voltage | AC 220V/110V 50/60HZ 5A/10A |
| Length of Fiber | Length up to 2m |