Electroporation machine for sale
Electroporation machine is for skin cool & warm. Electroporation facial machine has cold and hot 2 modes. The cold mode temperature is down to -10°c. The hot mode temperature is up to 40°c. The Cryo Electroporation skin machine works for wrinkle removal, eye bag removal, and anti-aging.
The cold mode Use -10 Cryo cold help sensitive skin shrink the pores. The Hot: Open pores and help skin absorb essential. The article will be guidance on how to use the machine. You will learn the Electroporation facial machine price from the article.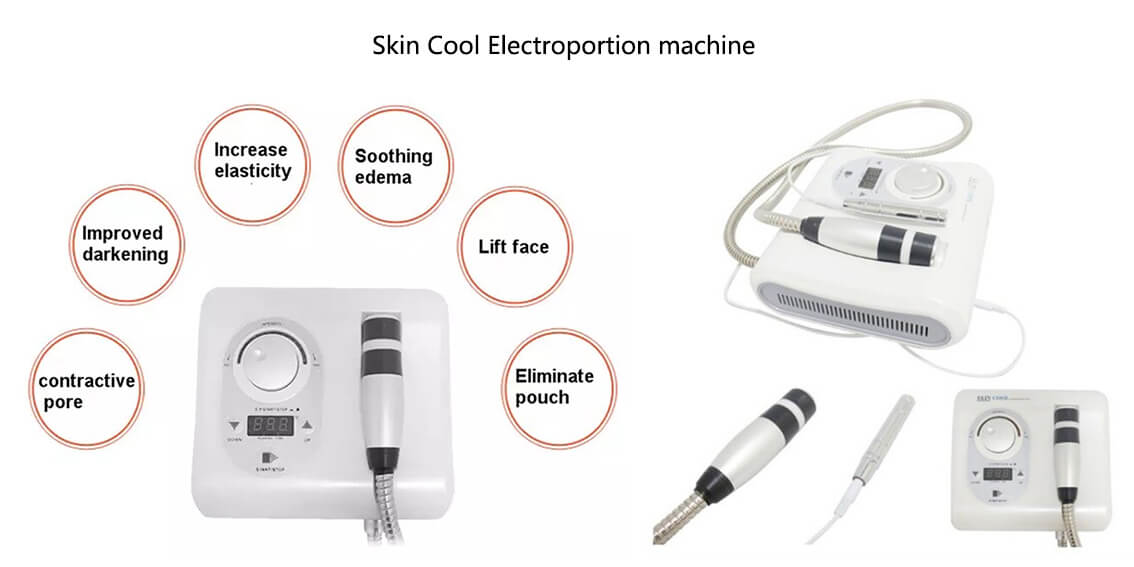 How to use Electroporation facial machine?
Electroporation facial machine is a portable device. The operation is easy to handle. The Cryo electroporation machine (mesoporation) is a breakthrough in the aesthetic beauty area. It helps the cosmetics better absorbed and penetrated to our skin.
After the treatment, our skin becomes tightening and smoothly. The treatment is comfortable and non-invasive. Learn more about electroporation facial machine operation from the video.
.
Skin cool electroporation working principle
The skin cool electroporation has 2 handles and combined working modes.
Skin cool Electroporation + hot & cold working mode
1.Electroporation + heat mode
The heat mode could help our pores open widely to absorb nutrition and cosmetics. It has been proved in the heat mode, cosmetic absorption is 100 times than manual work.
2.Electroporation + Cryo mode
Cryo electroporation is the next mode after the heat mode. The cosmetics and nutrition were absorbed by our skin during heat mode. The cryo mode use -10°c temperature to shrink or close the pores. The cryo mode helps the cosmetics completely absorbed.
Cryo & Heating therapy
The cryo handle could work dependently. We could use this mode for cooling and warming. This mode is often applied after laser, IPL or other medical treatments.
'
Skin cool electroporation applications
Help cosmetics and nutrition better absorption

promote lymph circulation and blood circulation

Subtract expression lines, light bitter grain

Skin whitening and rejuvenation

Double chin eliminate

dark circles, eye bags removal

Wrinkle removal and facelift

Activate the collagen layer of the skin and promote skin cell regeneration

increase flexibility, enhance facial contours firmer

promote fat dissolution.

Post care for laser, stamp, roller treatment.
Electroporation machine price
So what is the electroporation facial machine price? Here is a price list for skin cool machine.
Brand
Quantatity
Price(USD)
Note
Skin Cool
1
$500-$100
Demo machine price
3
$450-$900
Distributor Price
10
$350-$800
Sole Distributor Price
If you want to know the detailed price for skin cool, please send us the inquiry.
Inquiry Now