Laser Tattoo Removal Aftercare Proven Strategies
Laser tattoo removal aftercare is critical to avoid post-treatment side effects. It is not like scar removal laser surgery. To avoid tattoo removal side effects, such as Blisters, this article gives 10 ways.
Laser tattoo removal blisters are the most common side effects. The laser treatment may cause blisters pop. You need to pay attention if there are big blisters after laser tattoo removal.
Let's make a brief introduction of what may happen after tattoo treatment.
After the tattoo removal, the treated area may occur a light burn wound. The are a turn white or pale. The white will keep for a short time. But don't worry, it means the laser treatment works.
Blister, scabs, frosting redness and
itching
may happen for some clients.
To learn more about common side effects. please
Click
So how should we do if these side effects happen?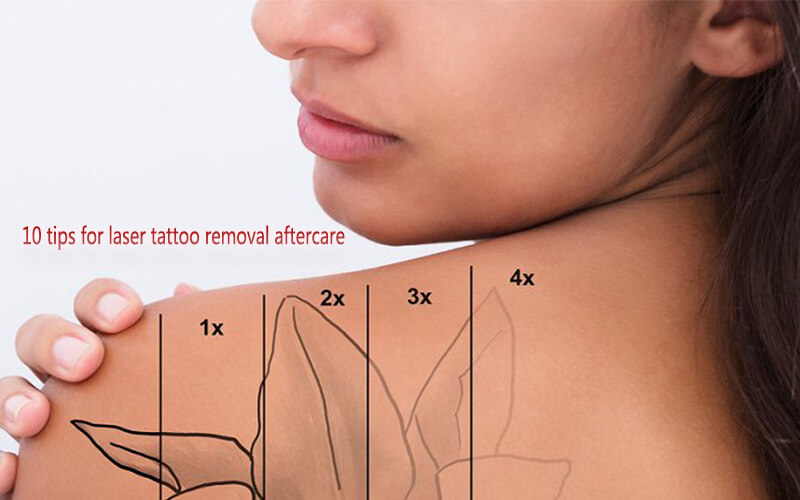 10 points about tattoo removal aftercare
We need pay attention for laser tattoo removal aftercare. We offer 10 lists suggestions.
1. During healing, make sure the treated area is clean and dry.
Usually, you should keep your tattoo clean in couples days after treatment. Apply A&D ointment to prevent scab formation. Covered with a sterile dressing to prevent abrasions and sun exposure. Wash hands before touching the treatment area.
2. When taking a shower, using Protex soap to clean the area, then pat the area dry.
Keep the treated area bandaged with sterile gauze in the first 3 days post-treatment. Protect with a thin layer of antibiotic or healing ointment. 
After 3 days, keep the treated area clean and dry during the healing process. Clean the area
gently
with mild soap and water and pat dry.
3. Solve laser tattoo removal aftercare itching by using cool compresses if need.
In 24 hours to relief the pain, discomfort and inflammation. You may apply Golden Skin Cream up to three times a day while the area is healing, it's great to relieve pain and laser tattoo removal itching. You should avoid aspirin (it can increase the risk of bruising and/or bleeding.)
you can take Panadol or simple anti-inflammatory.
4. Don't be so worry about laser tattoo removal aftercare blister.
Blistering is common and is likely to occur 8 hours after your treatment. Do not be alarmed, laser tattoo removal aftercare blister heals very well and is part of the normal healing process.
Blisters mean your body's immune system is healing the area. and beginning to remove the ink from your tattoo. Don't
be alarmed by
strange-coloured fluid in the blister(s) as this is usually ink from the tattoo. It is natural for blisters to pop, and this helps the skin to heal faster often.
Continue to put Golden Skin Cream over the blisters once they have popped for at least 24 hours. We do not recommend lancing or self-popping the blister(s). Allow this to happen
naturally
.
5. Pick at the scab or allow the skin to become scraped
is forbidden
.
Don't pick at the scabs by yourself. Wrong steps will lead to infection and occur scarring. Shaving should be avoided in the treated area until it is completely healed.
6. The shower is no problem 2 hours after the treatment. But don't use high-pressure water hitting the treated area.
Baths, hot tubs, swimming pools and any form of soaking aren't recommended. until all blistering and scabbing are completely healed, usually around 2 weeks. Non-compliance may increase the risk of infection.
7. Reasonable exercise is advised.
Taking into account the other after care instructions provided herein. But swimming is not suggest.
8. Cover a
sun block
with an SPF of at least 25 or higher uppon the area for 90 days after treatment
Do not wear makeup or any cream or medication on or near the treated area. Remember any significant lightening of the skin (Hypopigmentation) will disappear in time. Sunshine will help the re-darkening process once it's safe to expose to sun again.
9. laser tattoo removal aftercare 
Itching
is common to see due to the dehydrating effect of the laser treatment.
Using Golden Skin Cream on, and immediately around. the treatment area to help with this side-effect.
10. Abnormal occurs please contact your doctors immediately.
If an abnormal problem happens, don't hesitate to contact your doctors.
If you want to know what is a laser tattoo removal machine, please click.
Here we want to talk more about laser tattoo removal blisters.
Will laser tattoo removal treatment cause blisters?
The answer is, blisters may happen. While blisters are painful and
unsightly
, they are good things. Blister means that your body's healing processes have begun. Blisters after laser tattoo removal sessions are often caused by the laser.
The laser heats up the ink particles in your skin. which will cause blood vessels surrounding the tattoo area to break. Thus, blisters containing ink and water may appear on your skin. But no worry, the blister will heal anywhere between three and 14 days if cared for.
Blisters after laser treatment
Big blisters after laser tattoo removal photos