What is diode laser hair removal machine price?
Diode laser hair removal machine price now is becoming acceptable by medium spas and diode laser is the main technology in the hair removal market. What is the diode laser hair removal machine price and how to choose a good diode laser machine? this article will offer suggestions for a good diode laser.
Diode Laser Hair Removal machine theory
Diode Laser machine designed for permanent hair removal emits wavelengths 808nm which is absorbed by melanin in the follicle and greatly reduce the absorption by water and hemoglobin. Treatment is safe and painless for the epidermis. During the procedure, the laser pulses for a fraction of a second, allowing the hair to absorb the energy and heat up. As it heats up, the hair shaft and bulb are damaged which significantly impedes its ability to re-grow. 808nm wavelength is the golden standard for hair removal.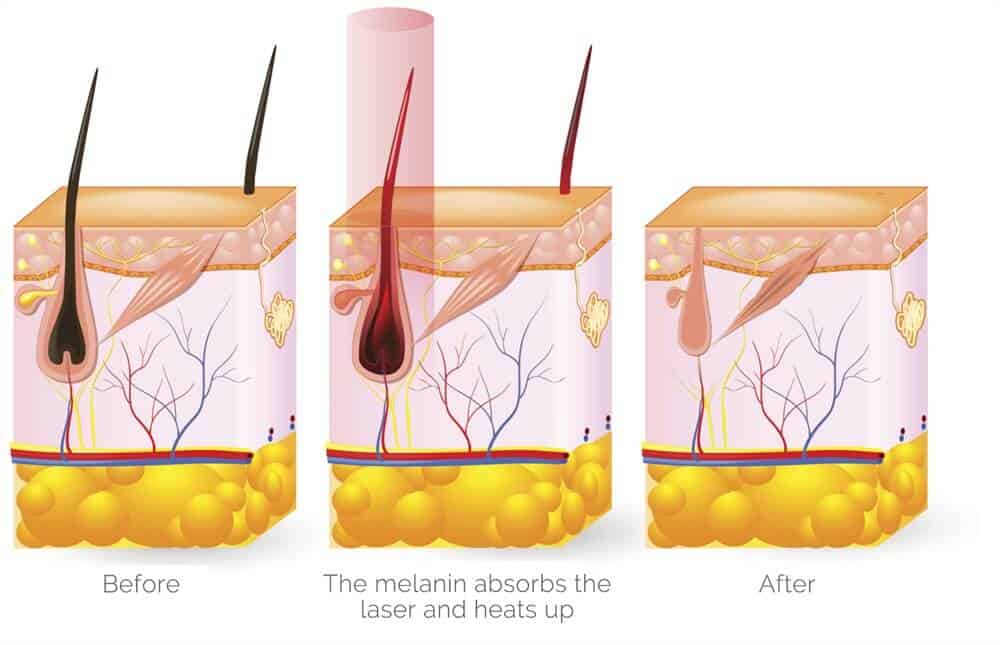 Features for choosing a good diode laser machine
A. High power brings effective results
Diode machine with high power output brings good and obvious hair removal results. VIVALaser diode laser machine use 10 pcs laser bars, unit power more than 2500w and max output energy density 166J/c㎡. High energy density laser could remove the hair more clearly.
755nm/808nm/1064nm multi-wavelength is also optional. Different wavelength combination make hair removal option flexible.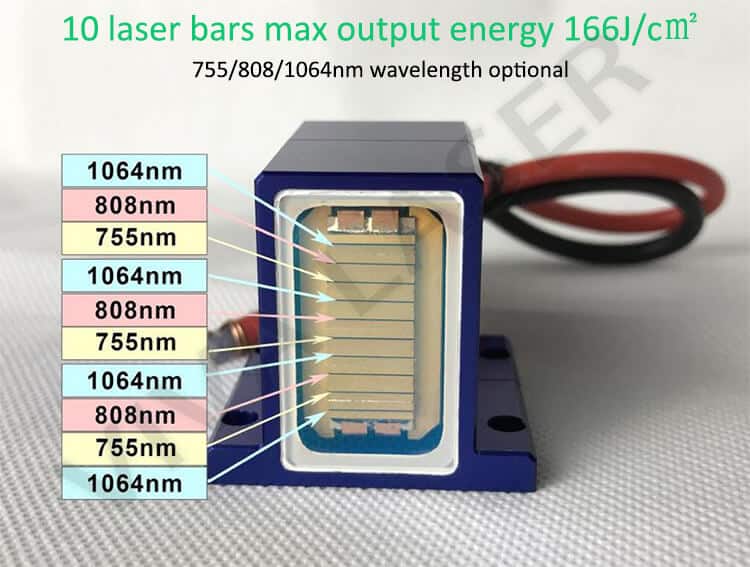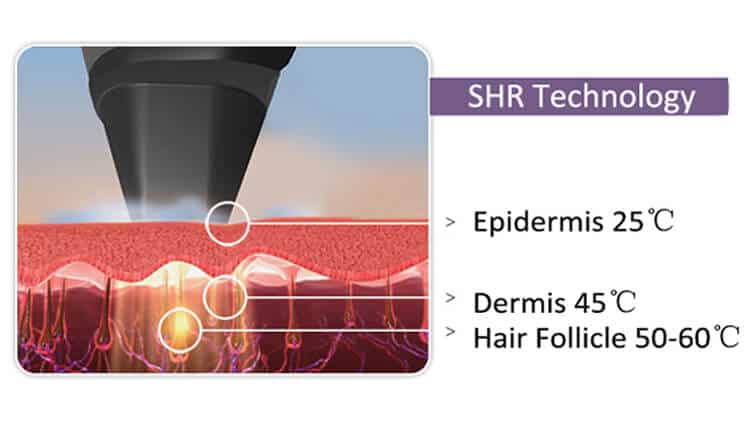 B. High frequency speedy hair removal
VIVALaser uses SHR and in-motion diode laser hair removal technology , frequency up to 10 HZ. It saves much time for treatment. Diode laser hair removal is 2 to 3 times faster than traditional IPL. In-motion SHR technology has much reduced the pain during treatment.
C.Good Cooling make treatment painless
Good cooling intensity is very important for hair removal treatment.
Based on SHR technology, VIVALaser develops ICE SHR technology for hair removal, which added ICE Cooling head in the handpiece to enhance the cooling.
Besides, VIVALaser apply TEC active cooling technology. ICE SHR hair removal is real painless and comfortable.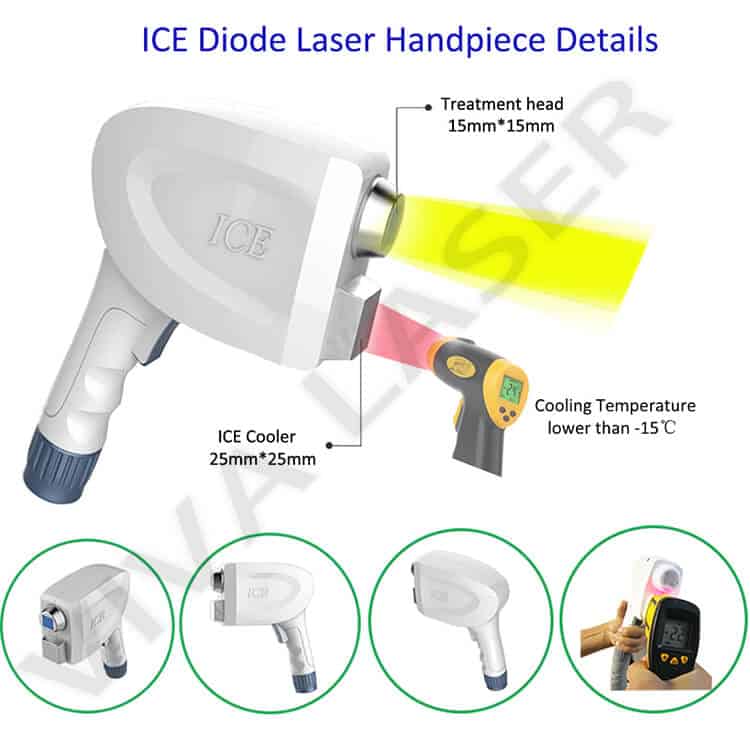 D. Easy for operation
A good diode laser machines interface should let hair removal treatment easy.
VIVALaser diode laser machines could let doctors set treatment parameters according to skin type, body area, hair thickness.
Intelligent interface will recommend the parameters after doctor choosing these factors.
Critical Factor for maximum your profit and ROI
A. Short treatment time and intensity energy
1-10Hz frequency with in-motion SHR technology ensures fast hair removal treatment, VIVALaser ICE SHR diode laser hair removal machine is 2 to 3 times faster than IPL machines.
Saving time could help you treat more clients and bring more profit.
VIVALaser diode laser machine max energy is 1-166J/cm (totally 10 imported high quality laser bars),
strong energy output make hair removal treatment more effective. and clients more satisfied with the results.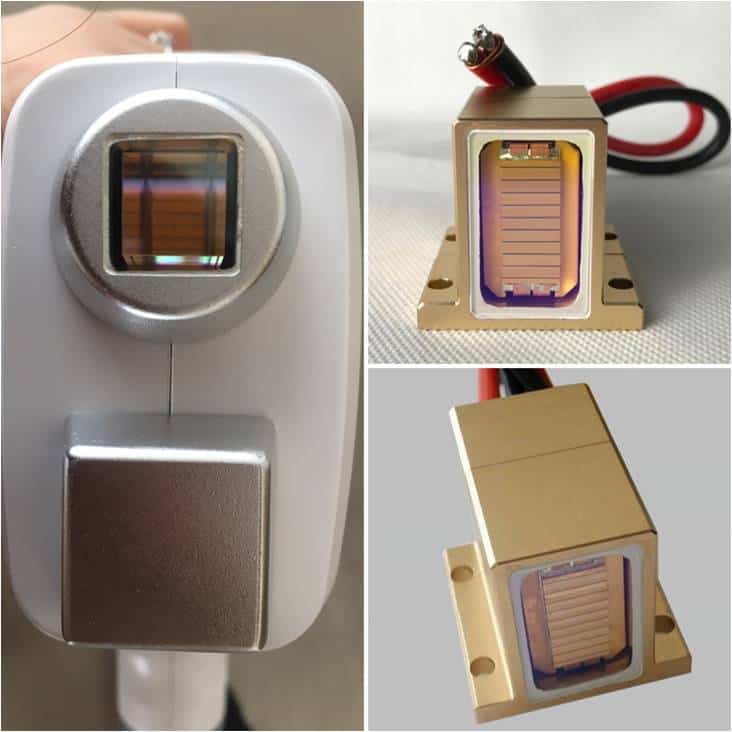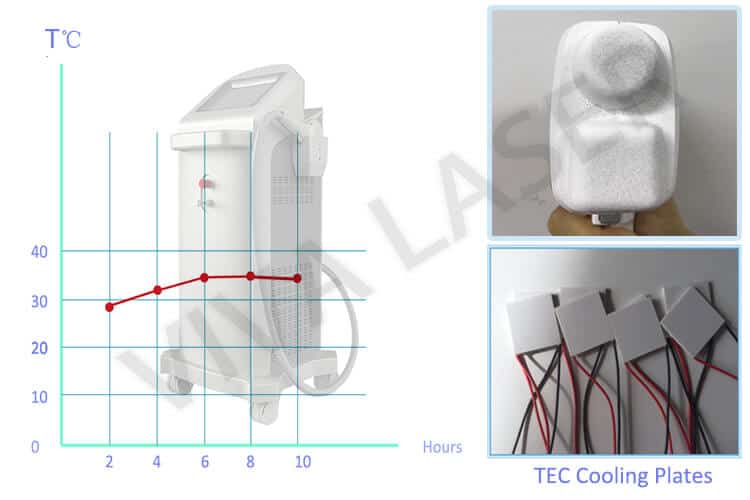 B. over 15 hours of continuous working time
Long continuous working time could help your spa or clinics keep running at your working time.
VIVALaser diode laser machines apply TEC active cooling technology to improve the cooling of the whole machine.
TEC active cooling using cooling plates and air compressor to radiate the machine in very short time, and keep the machine water circulation temperature lower than 40℃ all the time.
C. Less treatment times
Diode laser hair removal machines with In-motion and ICE SHR technology needs only 3 to 4 times for permanent hair removal. While traditional IPL hair removal treatment needs 6 to 12 times.
The time interval between every treatment is 3 to 4 weeks. Less treatment times let clients more satisfied and earn more profit for you.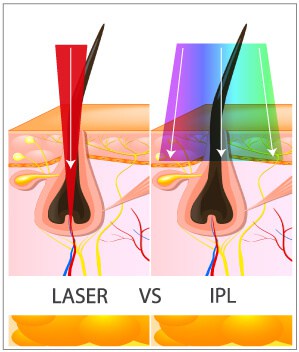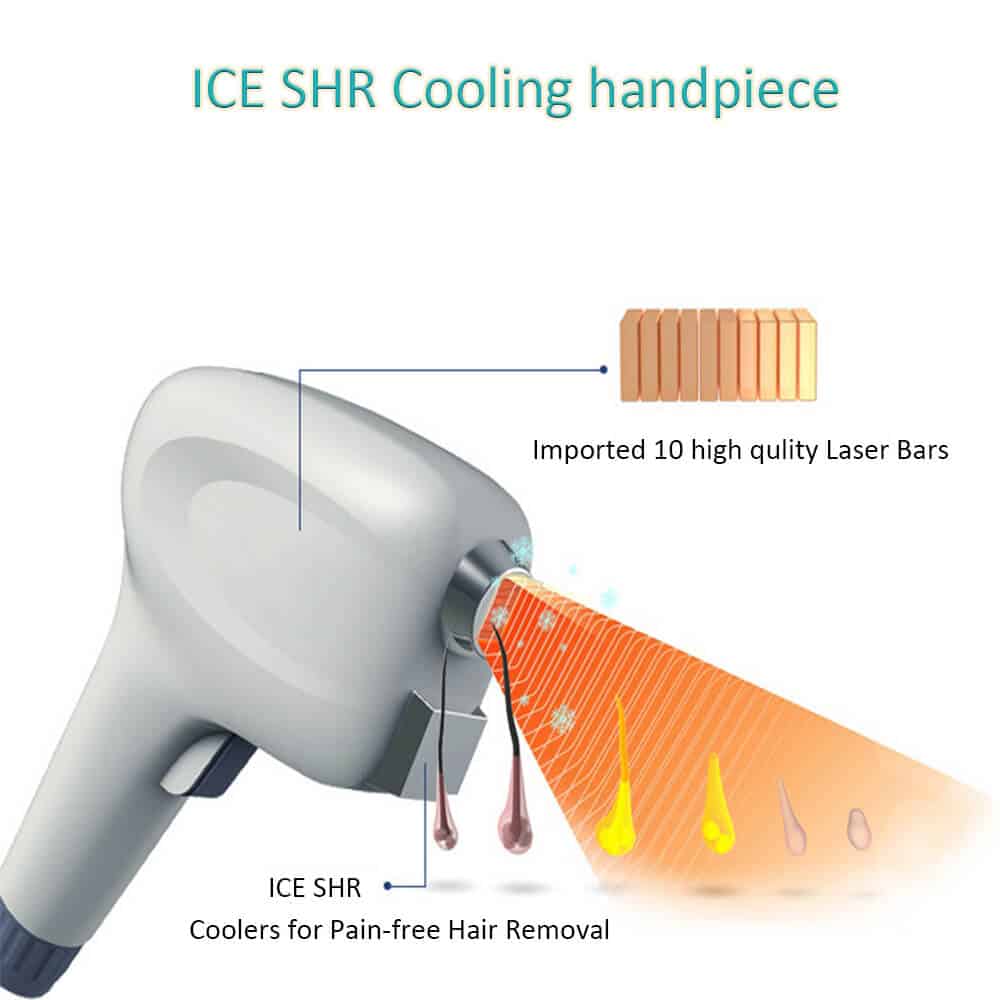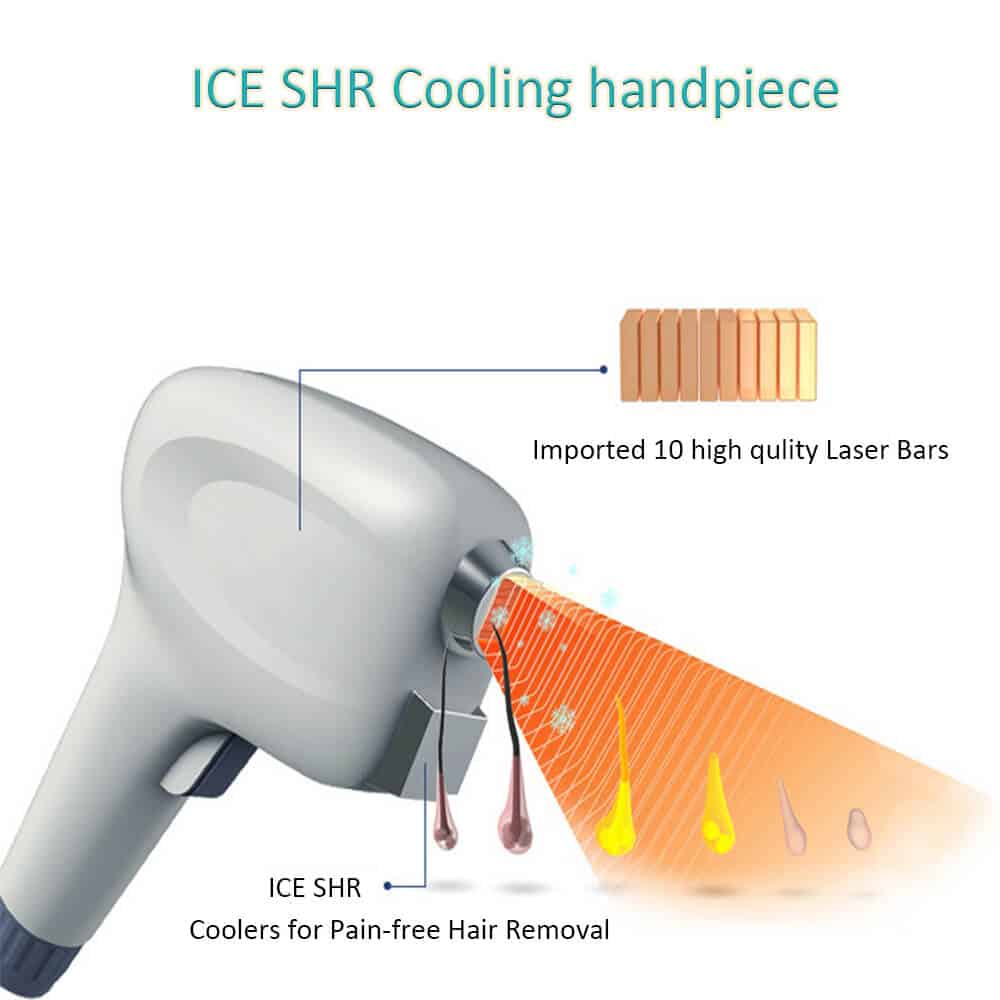 D. Long lifetime
Long handpiece lifetime could save a lot cost for you. As we all know, the main consumables and cost of the diode laser machine is the laser handpiece.
A long lifetime laser handpiece is cost-effective.
The lifetime of VIVALaser diode laser machine is over 30,000,000 shots, and we offer 1 year free warranty for the laser handpiece.
During the warranty, we could change you new handpiece for free if there is any trouble.
Comparison between ICE SHR diode laser hair removal price and IPL/Traditional diode laser
| | | | | |
| --- | --- | --- | --- | --- |
| | ICE SHR diode laser | Traditional Diode Laser | E-light (IPL +RF) | Traditional IPL |
| Revenue per treatment | $500 | $500 | $500 | $500 |
| Number of shots required | 1000 | 1800 | 300 | 500 |
| Cost per shot | $0.000625 | $0.001 | $0.0625 | $0.0625 |
| Cost of treatment | $0.625 | $1.8 | $18.75 | $31.25 |
| Profit from treatment | $499.375 | $498.2 | $481.25 | $468.75 |
| TIME FOR TREATMENT | 20 minutes | 30 minutes | 45 minutes | 60 minutes |
| Revenue per hour | $1,498 | $996 | $642 | $469 |
Diode Laser Hair removal machine price under arm
| | | | | | |
| --- | --- | --- | --- | --- | --- |
| No. Clients | Per Visit Cost | Cost per treatment | Daily Profit | Weekly Profit | Annual Profit |
| 1 | $63 | $0.04 | $62.96 | $377.76 | $18,888.00 |
| 2 | $63 | $0.04 | $125.92 | $755.52 | $37,776.00 |
| 5 | $63 | $0.04 | $314.80 | $1,888.80 | $94,440.00 |
| 7 | $63 | $0.04 | $440.72 | $2,644.32 | $132,216.00 |
| 10 | $63 | $0.04 | $629.60 | $3,777.60 | $188,880.00 |
Diode laser hair removal machine price bikini
| | | | | | |
| --- | --- | --- | --- | --- | --- |
| No. Clients | Per Visit Cost | Cost per treatment | Daily Profit | Weekly Profit | Annual Profit |
| 1 | $63 | $0.04 | $62.96 | $377.76 | $18,888.00 |
| 2 | $63 | $0.04 | $125.92 | $755.52 | $37,776.00 |
| 5 | $63 | $0.04 | $314.80 | $1,888.80 | $94,440.00 |
| 7 | $63 | $0.04 | $440.72 | $2,644.32 | $132,216.00 |
| 10 | $63 | $0.04 | $629.60 | $3,777.60 | $188,880.00 |