Diode laser hair removal machine reviews
Diode laser hair removal machine reviews: 810nm diode laser is the golden standard for hair removal. Light at the wavelength of 810nm is absorbed by melanin in folicle and greatly reduce the absorbtion by water and haematoglobin. Treatment is safe for epidermis.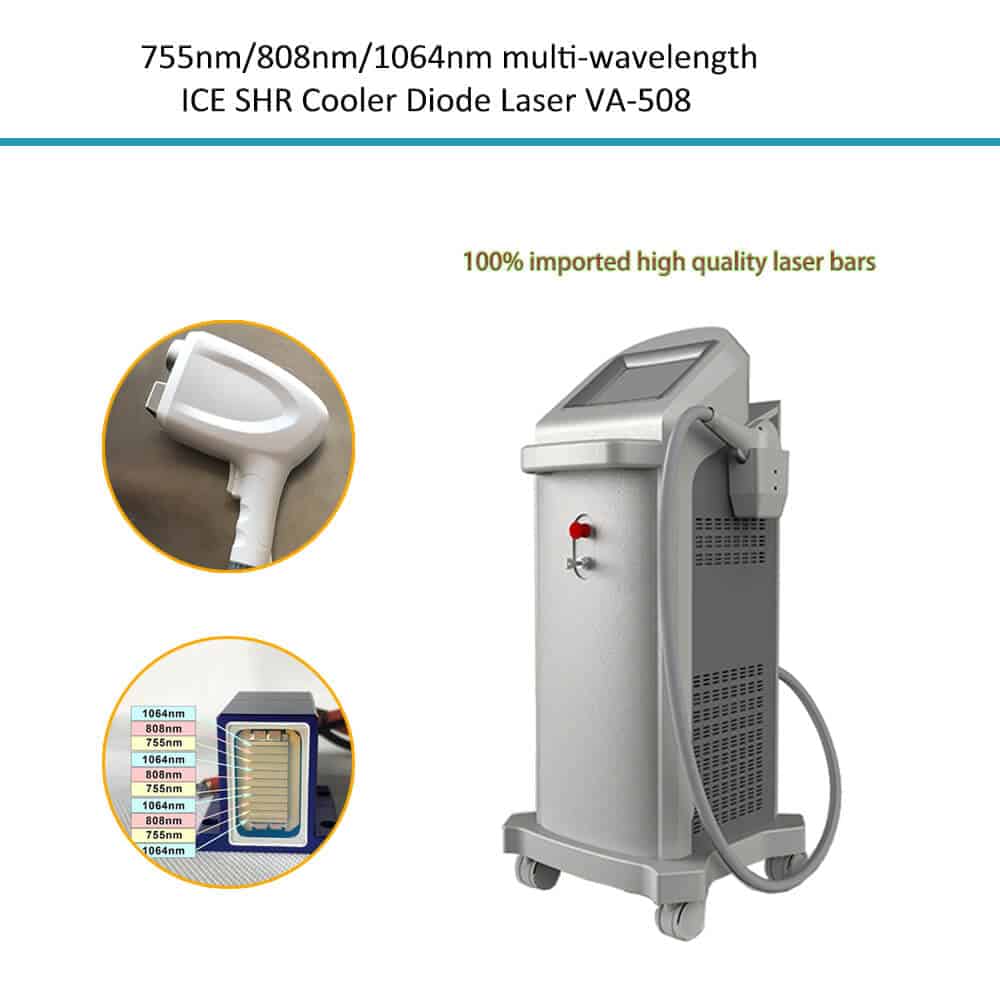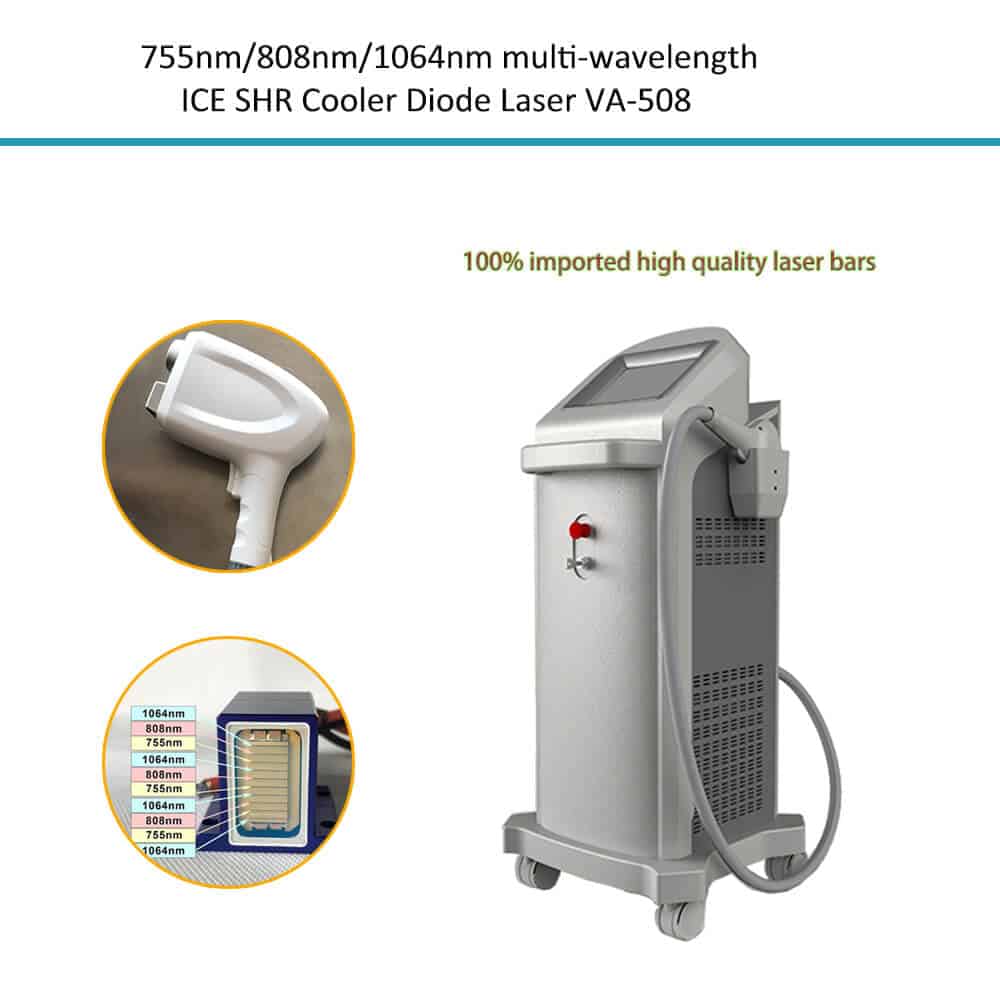 Technology for Diode laser hair removal machine reviews:
755/808/1064nm 3 wavelength diode laser technology
Mixed wavelength(755nm, 808nm, 1064nm) is the new trend technology for diode laser. In VIVALaser, clients could customize 755nm/808nm/1064nm 3 wavelength now. We use 10 pcs laser bars for 3 wavelength diode laser machine, 3 pcs for 755nm, 3 pcs for 810nm and 4 pcs for 1064nm.
TEC Active Cooling technology
VA-508 apply TEC Active Cooling technology to diode laser machines. Compared to passive cooling system, TEC Cooling use cooling plates and air compressor to keep the handpiece temperature staying at a stable and low value. Our diode laser with TEC cooling technology could work more than 12 hours continuously.

AI + WARNING Self-protection system
10 sophisticated warning systems to guard your machine the whole time. Any anomaly will be diagnosed in 2 seconds responding time to secure your system.
Aluminum box case to protect the machine
All the machines in VIVALaser were packed by aluminum box, inside the box we have added mould foam to avoid machines touching with the case. Mould Foam also make the packing more stable.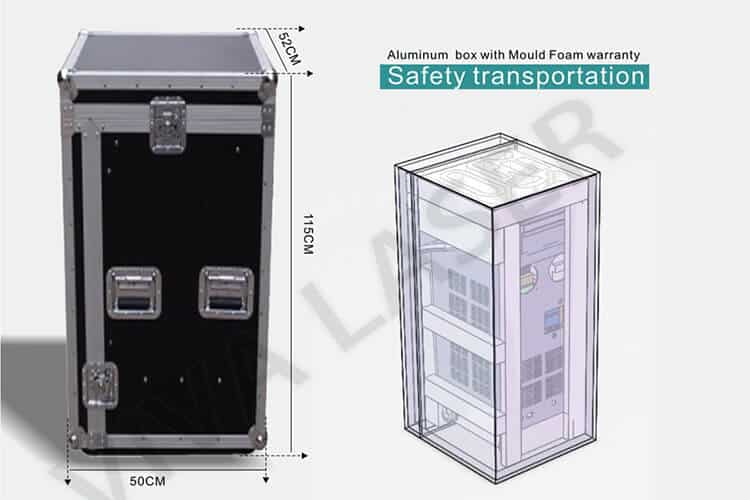 Well organised modular design inner structure
VA-508 using metal frame structure to protect the main parts(power supply, water tank, control board and etc.). The water circulation parts and electricity components are separated and will not interaction each other.
Applications:
1. Permanent Hair Removal for Skin type I-VI
2. Skin Rejuvnation
3. Effective for whole body Hair Removal
Specifications
| | |
| --- | --- |
| Wavelength | 808nm(755/808/1064nm optional) |
| Energy Density | 1-166J/cm2 |
| Laser Type | Imported Diode Arrays |
| Spot Size | 15*15mm2 |
| Repetition Rate | 1-10Hz |
| Pulse Width | 10-400ms |
| Laser bar output powerak Power | 800W |
| cooling | TEC + Sapphire cooling(0°C-5°C) |
| Stand-by Working | Continuously for 18 hours |
| Display | 8.4″ True Color LCD Touch Screen |
| Electrical Requirements | 100-240V+10%, 50/60Hz |
| rated power | 2000W |
| Dimensions (WxDxH) | 61*50*48 cm³ |
How to order diode laser hair removal machines?
VIVALaser is the leading beauty machine manufacturer in China, clients could directly visit our website and send inquiry.