OPT hair removal machine-best choice for pain free & fast hair removal
OPT hair removal machine is the new technology for permanent hair reduction. It is upgrading from the IPL hair removal machine, and cut or cancel the energy decease of sub pulse. OPT laser hair removal is short for optimal pulsed light, which we also call SHR hair removal machine. The super hair removal machine  is safe and painless. Compared the safety, comfort and results, OPT hair removal review we give 5 stars. So which machine is the best one for permanent hair removal? Here let's learn how IPL SHR machine works.
Hair growth Cycle for OPT SHR Hair removal -choose the best hair reduction period
In general, the OPT SHR hair removal growth cycle has three stages, anagen catagen, and telogen. In the anagen, hair is growing fast and the melanin in the follicle will absorb the IPL light. While in the catagen and telogen, hair is not growing or very slow. So only in the anagen period, opt hair removal could  achieve the best results. The human catagen could last 4-5 months, we can not complete permanent hair reduction in one time. Generally permanent hair removal treatment need 3-5 times to achieve the best results. Permanent hair removal time span is  around six months.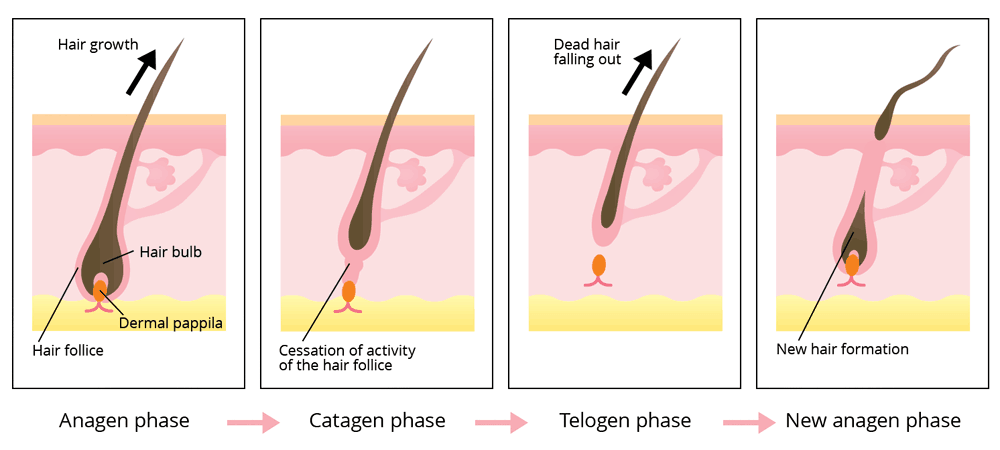 OPT laser hair removal machine-why it is pain free & safe?
The basic theory for Opt laser hair removal machine is  selective absorption of light. the melanin in the hair follicle will absorb the laser, and the laser will heat the hair follicles. The temperature in the hair follicles increased fast in a short time. Then achieve a permanent hair removal effect. OPT hair removal is short for the optimal pulsed technology. Compared to normal IPL technology, OPT energy output is always at same level. At the same time, OPT technology is also In-motion SHR technology. OPT SHR handpiece could sweep fast on the treatment area.

which one is better?-OPT hair removal or IPL
OPT hair reduction is better than IPL from these 3 points.
OPT hair removal is more comfortable and painless
IPL hair removal is hot and more painful due to the shots being hot. IPL has 5 to 8 pulse for one flash. The energy of every pulse is different. The IPL pulse energy is diminishing. IPL treatment needs a higher first pulse energy because the sub-pulse energy decrease. Burning may happen because the unequal pulse influence.
For the OPT, it does not burn or hurt at all. SHR technology has divided the pulse in every flash. One flash one pulse, every flash energy is same.
OPT hair removal treatment is faster
OPT SHR machine uses the sweeping super hair removal method, the frequency could up to 10Hz. Basic IPL hair removal need several seconds for the next shot.
The research proves SHR hair reduction mode is 2 to 3 times faster than IPL method.
OPT SHR Method needs 4-6 sessions for permanent hair removal; IPL needs 6-12 sessions.
OPT hair removal is more effective
As we refereed above, the pulse energy with OPT technology is same, there is no energy diminishing. There is more energy  deliver to the targeted areas. The OPT method has more effective and much faster results.
OPT treatment has no downtime. It is has a wide application.
Applications for OPT technology hair removal
Except hair removal, OPT technology hair removal apply in other treatment.
Below is the list for OPT application.
1.Permanent hair removal for skin type I-VI
2. Skin rejuvenation and whitening
3. Acne treatment
4. Wrinkle removal
5. Pigmentation removal (Freckle removal)
6.Spider vein removal
7.Wrinkle removal
SHR hair removal procedure
Before taking the hair reduction treatment, we should clear if you are a good candidate.
The SHR hair removal  procedure as below
Patients need to shave the hair before the Treatment.
Patients need to wear eye shields to protect your eyes during the treatment.
We will use cooling gel to protect outer lasers of your skin. This step will also make the treatment more effective. Because the gel helps light penetrating through the skin.
First we choose the gender, hair thickness, hair color, skin color. Then we adjust adjust the treatment parameters.
Start the treatment from a low-energy to test if patients could adapt to the treatment.
Choose Super hair removal mode for large body area treatment. Choose the fixed hair removal mode for small area treatment.
When we complete all the procedure, we could use ice packs creams. ICE could soothe the treated areas and diminish any discomfort.
SHR OPT Hair removal price list
OPT treatment price is higher than IPL. Below is suggest price list for opt shr treatment.
OPT SHR TREATMENT PRICE LIST
Area
Price
Lip
$50
Chin
$50
Snail Trail
$50
Underarms
$80
Outter Bikini Line
$100
Upper Bikini Line & Outter Bikini Line
$180
Inner Bikini (Brazilian)
$250
Lower Legs
$200
Upper Legs
$350
Full Legs
$450
Chest
$200
Lower Arms
$150
Upper Arms
$150
Full Arms
$250
Upper Back
$200
Lower Back
$180
Full Back
$350
OPT hair removal review-How to choose a good OPT machine?
What could be a five stars OPT Hair removal review machine? These 4 points are very important.
Hadnpiece Cooling
Handpiece cooling is very important. it affects the safety and comfort during the treatment.
VIVALaser OPT hadnpiece cooling could lower than -20℃.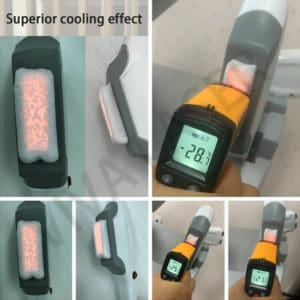 Power supply power
Higher OPT power supply power makes the treatment more effective.
The power supply for VIVALaser is 2000W.
Water quality
Water quality affects the lifetime of the machine. If the water is full of dirty, lifetime will be much short. But how to control the water quality after machine long hours work? The VIVALaser OPT machine adopts filters to purify the water. PP cotton filter and ion filter.
Xenon Lamp
The quality of Xenon lamp decides the lifetime of the lamp shots. UK lamp and Germany lamp are the best for OPT handpiece.
VIVALaser UK lamp lifespan could reach at 1 million shots.
Machine Design
A good  design ensures the quality and stability of the machine.
VIVALASER OPT SHR Hair removal machine is well designed and we use imported core parts.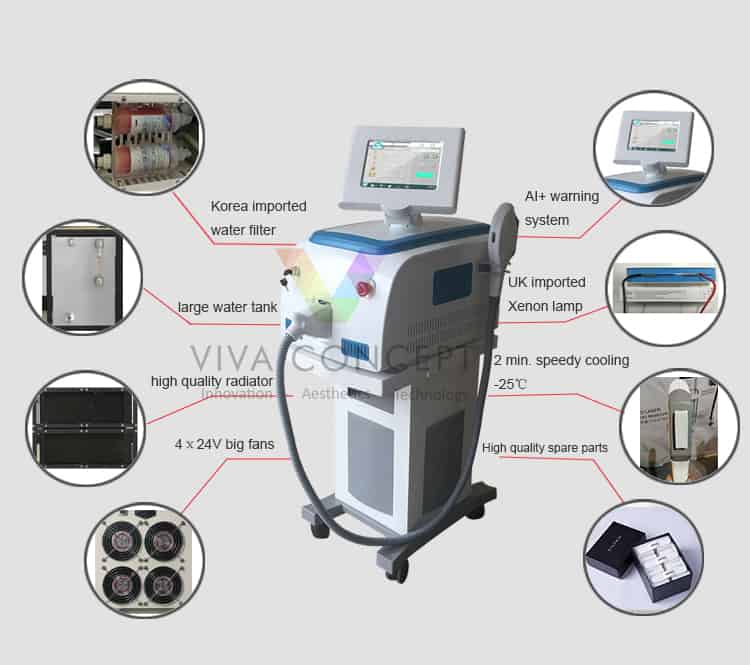 Who is the reliable OPT hair removal machine manufacturer?
VIVALaser is the leading beauty machine manufacturer in China. All our products are high quality and good efficiency.
More info about OPT hair removal machine, you could send inquiry to us. [email protected]
Summary
Reviewer
Review Date
Reviewed Item
OPT hair removal machine-fast and comfortable
Author Rating